SOLID/FLUE is proud of the work done by their distributors and the performance of the SOLID/FLUE product in homes and buildings across North America. SOLID/FLUE has lined chimneys ranging from the "Governor of Michigan's mansion on Historic Mackinaw Island to numerous Frank Lloyd Wright homes in Wisconsin and New Jersey. The product has a rich history in lining chimneys for the insurance industry and has been put in numerous fire chief's personal residences.

The following is a sample of some of the testimonials that have come through the SOLD/FLUE home office: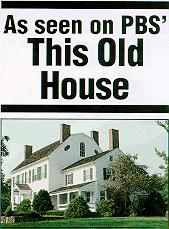 SOLID/FLUE has been installed in some the nation's most prestigious homes.
SOLID/FLUE holds the record for the largest industrial installation lining a 206-foot smoke stack at Roanoke Memorial Hospital.